dw062 - Horchata - Curuá Una

Phantom Channel (c) 2009
Thanks to Disquiet for highlighting this interesting record, issued through the Dark Winter label. Horchata is the chosen moniker of Michael Palace, a musician concerned with biologically enhanced electronic music. 'Curuá Una' is an hour-long deep drone piece. The sort of drone that rattles your eardrums and is dense enough to give you nose bleeds when played at certain volumes. The difference between this and the millions of other netlabel drone records is down to Palace's field recording methods and chosen areas — namely the Amazon Forest. While, his sounds have been totally manipulated and processed beyond recognition and only fleeting fragments of melody appear throughout the duration, Palace's subject matter is quite brilliant. It's a trip into the unknown, one of which 99.9% won't ever experience. Perhaps 'Curuá Una' is the closest we'll ever get to the uncomprimising forest. Please read the passage below outlining the inspiration for this release.

This album is a continuation of some concepts and themes explored in my Isolated House release on darkwinter. A reviewer some time ago described one song as the soundtrack for an abandoned research lab in the Amazon rainforest. They wrote this knowing of my research in Amazonia and my use of field recordings in my compositions. The pictures, taken by Maria Hunter, were influential on finishing this album. I was collecting necromass production data in Tapajos National Forest and Michael Keller and Maria Hunter were collecting forest biometric measurements there as well. They, along with our Brazilian colleagues, went to visit a research area along the Curuá Una River. There was an old building with some meteorological recording instruments in it. That evening over dinner Michael and Maria were really excited to tell me about the place and told me they took some pictures. So the album art is actually from an abandoned research lab in Amazonia. I decided to make one long dark ambient and drone piece. There are field recordings in this track, but they have been masked by the heavy amounts of reverb and effects that I have used. There are rarely distinct sounds and melodies. In a sense, this is like the slow loss and decay of the research station to the forest.

IkEcht - Songsoverruins (c) 2009
How some scientists do it is a mystery to me, but Horchata, the name under which Michael Palace records, manages to have an artistic career next to his scientific one. Not so long ago I reviewed his album "Isolated House", released on the net label Dark Winter. "Curuá Una" continues the theme and is based on stories and pictures of colleagues who ran into an abandoned meteorological station during fieldwork in Tapajos National Forest, Brazil. Another soundtrack for derelict buildings then.

This time Horchata opts for one long 53-minute drone. Apparently there are also field recordings in here, but they have been buried under layers of drones and reverb. As a reviewer you can usually be quite short about these kind of one-track albums. You either like them, or you don't, and I'm finding "Curuá Una" to be a bit of a tepid affair. It drones and rumbles away, but doesn't manage to catch my attention and in the end outstays its welcome. A shame, as Horchata's minimalist approach worked so well on "Isolated House".

Originally written for the Dutch weblog IkEcht (http://ikecht.web-log.nl/ikecht/), English translation by the author.

Disquiet - Marc Weidenbaum (c) 2009
Horchata's Amazonian Sonics

Michael Palace likens the sound of his nearly hour-long drone work, Curuá Una, to "the slow loss and decay of the research station to the forest." Palace, who records under the name Horchata, is referring to the almost reverential solitude of the piece, which was recently released on the Dark Winter netlabel. The track is a slowly swelling mass that suggests emotional burden as much as it does decay. It's a heavy, leaden sound, rich with foundation-rattling depth and enlivened by occasional ringing tones, buried but not lost in the immersive audio. Palace reports that while some of the source material was recorded deep in the Amazon, that material has been subsequently subsumed by a healthy does of reverb, and is augmented further thanks to a host of synthesizers.




Back To Reviews

































Dark Winter releases are free to download under a Creative Commons License.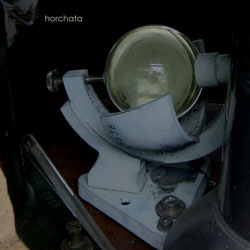 Related Links: