dw062 - Horchata - Curuá Una

This album is a continuation of some concepts and themes explored in my Isolated House release on darkwinter. A reviewer some time ago described one song as the soundtrack for an abandoned research lab in the Amazon rainforest. They wrote this knowing of my research in Amazonia and my use of field recordings in my compositions. The pictures, taken by Maria Hunter, were influential on finishing this album. I was collecting necromass production data in Tapajos National Forest and Michael Keller and Maria Hunter were collecting forest biometric measurements there as well. They, along with our Brazilian colleagues, went to visit a research area along the Curuá Una River. There was an old building with some meteorological recording instruments in it. That evening over dinner Michael and Maria were really excited to tell me about the place and told me they took some pictures. So the album art is actually from an abandoned research lab in Amazonia. I decided to make one long dark ambient and drone piece. There are field recordings in this track, but they have been masked by the heavy amounts of reverb and effects that I have used. There are rarely distinct sounds and melodies. In a sense, this is like the slow loss and decay of the research station to the forest.

horchata is michael palace
michael.palace@unh.edu
song written at trichordata studios
using homemade VSTs, modular synthesizers,
softsynths, and field recordings
from various trips to brazil

photos by maria hunter
design by michael palace

horchata wishes to thank
stp, hsp, hateful little cakes,
dustin ruoff, nathan of darkwinter,
maria hunter, michael keller,
dieter von schramm


Download Full Album:


dw062 - Horchata - Curuá Una (52.7 MB)


Download Songs:


Track 01 - Curuá Una (97.8 MB)




Back To Releases






























Dark Winter releases are free to download under a Creative Commons License.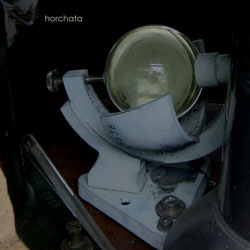 Related Links: