dw051 - Ka-baalim & Bunk Data - The Insomniati: Two 'when you forget you're dreaming and never wake up'

IkEcht - Songsoverruins (c) 2008
The .net label Dark Winter recently released a new collaboration between Ka-Baalim and Bunk Data, the second part in their Insomniati series. Part one has been reviewed here before and was a record that gripped me on a very personal level. I did not expect such a strong reaction this time around, but that doesn't mean that the second installment is any less terrifying...

The central theme to "The Isomniati: Two - when you forget you're dreaming and never wake up" is love and loss, and dreaming of dying. The drawings of a woman sitting in a coffin and holding a shrivelled corpse speak for themselves. The album has been divided in three parts with the first six tracks and 45 minutes focussing on this theme. Ghostly drones and dark ambient interlaced with spoken pieces is again the style that is employed, but this time it is a woman reciting most of the pieces. Her cryptic texts are often abstract, but due to her delivery also horrifying.

"When a moment, is a moment, within an option, I awake from my nightmare and don't feel quite so dead."

Especially tracks like "The Red Queen" with its deep drones, or the gloomy "Forget Thyself", where minimalist drones are joined by a deep male voice that slowly and very loudly recites his texts, impressed me. The latter even managed to scare me the first time.

"I say to the body, "my soul will have the hour of this afternoon with you, and I brought a large lunch, which I plan to eat, while sitting at the edge of your coffin." "

The album reaches for even more abysmal territories with "The Doings Of Me" where our central figure seems to lose grip on reality more and more. She starts singing fragments of nursery rhymes, would like to lunch next to a coffin and ponders her own mortality.

"Humpty Dumpty, building a wall

Humpty Dumpty, forgot to fall"

The second part of the album consists of two remixes of "Insomniati: One" , specifically of "One Thousand Miles To The Door", which was the track that impressed me most back then. Phil Western's ten minute remix stands out due to its rhythmic and hypnotising interpretation of this song. Still, I like it and the change of pace is nice. No, but then LAP, who in less than two-and-a-half minutes manages to portray the atmosphere of the original and, if at all possible, makes it even more claustrophobic. An upsetting intro is followed by the processed vocals of the original and it sounds as if the speaker is slowly falling through space. With a number of unsettling noises you are whipped into the last part of the album, an 18-minute improvisation session which is again mostly dark and is a collage of voices, drones, bells and other sounds.

This album is quite diverse but to me does not appear incoherent. Even the rhythmical remix of Phil Western fits in. Again the ladies and gents behind these projects have managed to create an extraordinary and unsettling piece of music. Just as with the first part I feel that the addition of spoken pieces of text makes the album that much more gripping and scary. Especially considering its theme it gnawes at the edges of your sanity like some maniac, slowly pushing you towards the edge. Those into dark ambient and other dark and atmospheric music are recommended to download this album right away! And cheers to Dark Winter for yet another memorable record.

Originally written for the Dutch weblog IkEcht (http://ikecht.web-log.nl/ikecht/), English translation by the author.

Disquiet - Marc Weidenbaum (c) 2008
Desolate Orchestral MP3 by Ka-baalim & Bunk Data

The way seeming orchestral tuning-up turns into a blanket of traffic sounds is enough to make "The Red Queen" (MP3) a heavy-rotation item worthy of any dark-ambient playlist. The track pops up several into a new, free release by Ka-baalim & Bunk Data. The album is just as baroque as might be inferred from its the inimitable title, The Insomniati: Two 'when you forget you're dreaming and never wake up' — just packed as it is with dramatic readings intoned over blank-industrial noise, like overheard portions from some cybersecular ritual. But "The Red Queen," bereft of any narration, has its own narrative, into a expanse that mixes desolate noise with hopeful melodic fragments.

Also included in the set is a remix by Phil Western (Download, Beehatch, Skinny Puppy). More on Ka-baalim at kabaalim.com. More on Bunk Data at bunkdata.com. Get the full set at the releasing netlabel, darkwinter.com.




Back To Reviews

































Dark Winter releases are free to download under a Creative Commons License.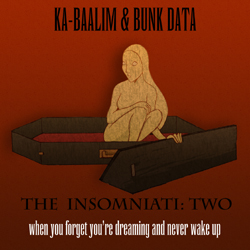 Related Links: