dw051 - Ka-baalim & Bunk Data - The Insomniati: Two 'when you forget you're dreaming and never wake up'

The Insomniati collaboration returns for further audio/visual and textual explorations into the realms of sleepless dreaming. The project uses means stylistically oblique and yet emotionally resonant. We do not delight in darkness nor do we imagine that all is light, we offer questions rather than answers. Those who try to "know" will never know but those who allow themselves to not know will find the fresh face of illumination was always there, just a mirror away. This is the difference between theory and experience.

We divide this exploration into three parts. The first part is connected to the included illustrated story. This is where we explore the dreams of the dying by the dying and the dreams of the dying by their friends. Loss and love are the primary themes here. The second part is a remixed reflection of the first Insomniati release. The two remixes of "1,000 Miles to the Door" feature the abundant talents of Phil Western (Download, Beehatch, Skinny Puppy, Kone, etc) and the mysterious LAP. The third and final part is a single 18 minute improvisational re-animation, a monument to the beautiful chaos alive in each and every moment.

This release is dedicated to the memory of Matt Zaun, the unofficial fifth member of Ka-baalim. You are dearly missed.

Thanks to:

Source samples from "The Red Queen" were originally created as a part of the soundtrack for Jillia Pessenda's play "Made in China"

Source samples for "dreamspeak" were unwittingly supplied by www.edentropy.blogspot.com

Some original material from "611" created by the fadladder project

Analog Drones courtesy of the Amanita Oscilator Box by Psychonautic Sonic Electronics and the Sloshbox ST by The Squarewave Parade


Download Full Album:


dw051 - Ka-baalim & Bunk Data - The Insomniati: Two (116 MB)


Download High Resolution Booklet:


dw051 - Ka-baalim & Bunk Data - The Insomniati: Two Booklet (14.7 MB)


Download Songs:


Track 01 - Part 1 - The Distance Between Death and Dreams (11.9 MB)
Track 02 - Part 1 - The last thing I would ever want to do (9.75 MB)
Track 03 - Part 1 - The Red Queen (8.40 MB)
Track 04 - Part 1 - Forget Thyself (13.0 MB)
Track 05 - Part 1 - The Doings of Me (9.74 MB)
Track 06 - Part 1 - Dreamspeak (7.69 MB)

Track 07 - Part 2 - 1,000 Miles (Phil Western Remix) (14.9 MB)
Track 08 - Part 2 - 1,000 Mile Lap (LAP Remix) (3.34 MB)

Track 09 - Part 3 - Six Hundred and Eleven (25.2 MB)





Back To Releases






























Dark Winter releases are free to download under a Creative Commons License.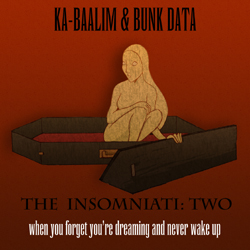 Related Links: