dw047 - Horchata - Isolated House

IkEcht - Songsoverruins (c) 2008
Horchata, the alter ego of American scientist Michael Palace, has publised an album before on the .net label Dark Winter. "Isolated House" is his second album here then. But upon having a closer look it turns out Horchata has been making music for the last ten years already. As the title suggests, this album focuses on Horchata's fascination of old, derelict buildings. Inspired by many a visit to such abandoned structures over the years, "Isolated House" is the accompanying soundtrack, with each track named after a room.

For those who expect an album full of field recordings, no. Apart from some doors being unlocked in track 3, "Kitchen", this album heads straight into drone / soundscape territory. It all starts relatively lightly with "Yard", a track that I like very much, especially since it evokes Jean Michel Jarre's soundscape-opus "Waiting For Cousteau" from the album with that name. After this the album dives headlong into the dark with layered soundscapes and drones. If you really take the time and sit down for this album, preferably in a quiet environment, it is easy to imagine oneself sitting in one of the mentioned rooms or lying stretched out on the bare floor, while listening to the breath of the lonely building around you and fascinatedly staring at a cockroach, as it looks back at you, motionless but equally fascinated. The real power of this album however are all the sounds that have delicately been woven into it, usually on, or just beyond the edge of your perception; birds, the sound of children outdoors, the static humming or ticking of a machine that somebody forgot to turn off or a ghostly plucking of piano strings. If only to remind you that we are dealing here not with a barren concrete ruin that has been open to the elements for decades, but a boarded up building that housed people not so long ago, and now is haunted by just their memories and impressions.

With over an hour of music this is, as mentioned above, an album that requires you to sit down for it. But then it is very much worth it. Well-suited for late night listening sessions or, and I'm tempted to just give this a try sometime soon, to take it along on your MP3 player to that nearby boarded up building that has been decaying for the last two years. In that respect Horchata has certainly managed to make a very thematic soundtrack.

Originally written in Dutch for the IkEcht weblog, English translation by the author.

Alan Walker (c) 2008
The Album
Isolation: Involuntary exile or safe harbour, shelter in a sea of emptiness. This is the fork in the road that this album confronts the listener with. Not a challenge, but a push from behind, a prompting assisted by the sonic metaphors that unfold; adding to the association upon completion of each piece within the collection.

For this reviewer, that association, stark: of memories buried by the passing of time. Where isolation means a house surrounded by city sprawl, but separated by walls of difference.

Each piece, a segment. A room or space in a once inhabited, but now decrepit building, painted dark punctuated by occasional unfolding snatches of melody drifting in and out of the tone-scape. Occasionally shafts of light lift the soul, balancing the work, adding poignancy to the more sorrowful shades.

Yard
A question without an answer. A two-note cry amid colliding circles of happiness and regret. Rags of curtains seen flapping from broken windows like rotting crow's wings on a gibbet. The signature of humanity fugitive, fading.

Hallway
Darkening. The move to interior space. Where unanswerable questions lie behind doors rusted shut, refusing arrival or departure.

Kitchen
Mother-womb, where warmth survives, where memories, and ghosts draw comfort from the still-remaining, but fading pulse of the past.

Dining Room
Tatters of flock wallpaper fool the eye. Shadows play over floorboards, carpet-less, unforgiving in their loneliness. Except footfall traces mark a journey, a tracing mark of remembrance from another visitor, or perhaps myself.

Bedroom
The cycle of life and death are etched in stains on a mattress propped against a wall.

Living room
Christmas-eve, the family gathers in anticipation; a wake, in mute desolation, a birth where the spirits lift in expectation. But now, as plaster falls from the ceiling and a photograph lies face down on a chair by the wall, no-one survives to remember.

Stairs
Where footfall marks time as days begin and end. Years pass, punctuated by sunrise and sunset.

Basement
Naked roots penetrate walls grown to earth in their years. On shelves, jars of preserves, labels rotted to nothing - solid fossils, a hand extended down time, a vestige of humanity that refuses annihilation.

Backyard
The echo of children. Their energy pushing back time, drawing from an un-emptying well of hope. Fading chalk marks, unfading souls, risen in their boundless optimism to their place in heaven.

EARLabs - Larry Johnson (c) 2008
"They are part of civilization, yet still remain outside of humanity, often being retaken by vegetation and animals." That's Michael Palace's general description of the various abandoned houses/buildings that he has visited over the years. Isolated House is Horchata's dark soundtrack that takes the listener room by room through an uninhabited house - isolated and forsaken by humankind.

Every once in awhile a release comes along that renews your interest in a genre that you were coming to regard as rather banal - overworked, overdone, and imitated by many. Beginning with those low, diffused drones, insect-like twittering electronics, bleak synthesized melodies, and the intermittent percussive peal of Yard, Isolated House captured my attention completely. This free, darkly brooding ambient album made available by Horchata and the Dark Winter label has restored my interest in this style of electronic music. Listening to these shawdowy pieces brought back the same thrill that I felt when I first heard the work of artists such as Lull, Lustmord, or Thomas Köner.

Consisting of nine rather gloomy, slow-moving compositions where the track titles refer to a specific part/room of the house [Yard, Hallway, Kitchen, Basement, etc.], I was expecting an album heavily based on field recordings, but, to my surprise, there's no mention of field recordings. According to the downloadable PDF artwork/liner notes, Isolated House was "created using code, analogue and digital synthesizers, and soft synths and effects." As you take the aural tour of this vacant dwelling and the surrounding property, everything in the synthesized sound field ties together flawlessly to create the cheerless ambiance of something abandoned, neglected, and isolated. As you listen to the restrained, solemn piano melody accompanying the low, grayish drones on Bedroom or the noisier, more vigorous, and grating atmospherics of Stairs and you'll immediately grasp what I mean.

Horchata and Dark Winter have delivered a classic work of dark, isolationist (in the most literal sense) ambient via Isolated House. An album not to missed by an fan of this genre.




Back To Reviews





























Dark Winter releases are free to download under a Creative Commons License.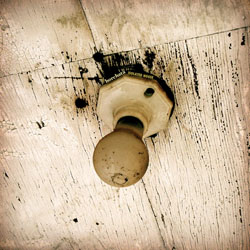 Related Links: