dw076 - Kirill Platonkin - Repose

IkEcht - Songsoverruins (c) 2011
August last year I already reported on Kirill Platonkin, and I was rather impressed with this Russian artist. In the meantime some more information on him has surfaced in the form of a web site. And it turns out this is his seventh album already, all of which have been released on .net labels. His most recent effort, "Repose", has again been released on Dark Winter.

"Repose" isn't far removed from the previous album on Dark Winter. Again we get dark ambient, and with 12 songs and over 70 minutes, we even get a lot of it. Interesting is the addition of field recordings that have been woven through the tracks in subtle fashion; they add a certain depth, and make for a spooky occasional spooky sound, such as "In The Corner Of My Memory", or "Railway Dreamings". The overall sound varies from rather ethereal and hypnotical (especially opener ""Sergius Of Radonezh"), to noisy and dark ("The Rise Of Polaris", or "On The Iron Path"). Kirill Platonkin may not be exploring new territory here, but the execution is very well done and again makes this a suitable record for late night listening. Recommended.

Originally written for the Dutch weblog IkEcht (http://ikecht.web-log.nl/ikecht/), English translation by the author.




Back To Reviews






























Dark Winter releases are free to download under a Creative Commons License.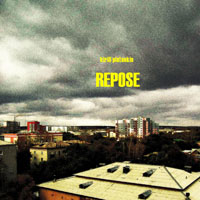 Related Links: