dw060 - Subseason: II

IkEcht - Songsoverruins (c) 2009

Subseason is Brooks Rongstad of Exuviae and Nathan Larson of Bunk Data and the net label Dark Winter. Recently their second album has been released on Dark Winter; a live recording made in August 2008 in the bookstore "Magus Books & Herbs" in Minneapolis during one of their "Sonic Seance" sessions.

The album contains one track of about 38 minutes, entitled "Ocean" and it will be clear that we are dealing with drones and (dark) ambient. I can be short about this; it's a darn fine track. An evolving soundscape of and echoing drones, clicks, cuts and many other sounds. I guess the recordings were taken directly from the equipment, as you would not be able to tell this is live recording. Recommended for drone lovers.

Originally written for the Dutch weblog IkEcht (http://ikecht.web-log.nl/ikecht/), English translation by the author.




Back To Reviews






























Dark Winter releases are free to download under a Creative Commons License.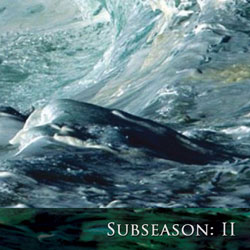 Related Links: