dw020 - Ryu - The Depressed

Oktokt - Escape Line (c) 2008
Digital Domain Xoomei sakha The Sakha (Yakutia) Republic (Russian); Yakut:) is a federal subject of Russia (a republic). The direct romanization of the republic's name is Respublika Sakha (Yakutiya) in Russian and Sakha Respublikata in Sakha. At half the size of the Far Eastern Federal District, it is the largest sub-national governing body by area in the world.


Sahka is far east siberian nation. As from Album "The Depressed",Digital Domain Xoomei sakha, Original Release Date: January 1, 2005, Label: dark winter, Song Length: 10:19 minutes, Genres: ambiental&leftfield will be World music with "Expanded semi-tonalism" like kafka,werbern, rather than lower east side postmodern improv style. "Expanded semi-tonalism" creates root-less or nontonal As for sound. Then ,Sound cann't maintain itself on the base uncertainty principle or Unschärferelation principle. In Non-equilibrium,it will get Yuragi. Then,Forth world muziq be Generated with Digital-Domain-based technique "Expanded semi-tonalism". so Digital-Domain-based tunes almost be called world muziq. and Digital-Domain-based tunes have atmosphere such as most coldest Far east continental space. and Boltz or Oval said Digital-Domain got Perfecly function, so Digital-Domain-based tunes get denial theology. This image is uncertain because we don't know physics or music. But This style will be considered after 80's or early 90's postmodernism style.

Usyukuro Sound Space (c) 2007
Ambient music was developed initially with the main idea of relaxation and curing, however during few years it became the new level in abstract feelings, bringing a listener the ability to construct his own mind and thinking through the listening process. Most of such art works are rare to get and even buy, however there are many musicians that share their composing experience with no fee at all, and everybody could enjoy them just being connected to Internet. One of such musicians is Japanese construction specialist Ryu, which mostly surrounds himself with the hard-to-understand descriptions and bios, provides the only possibility to listen to his music through his own ears with no charge. "The Depressed" work, for example, is described as "a post sampling kinetic dissipative system of sound in nonequalibrium", however those who is familiar with the digital abstractionism, won't find it difficult to understand and get some fun. Released at the famous darkenist Nathan Larson's net-label "Darkwinter", it consists of four tracks in total, each of them is more than 10 minutes long journey into gloomy world of something like city sewerage, which reminds me the dryed brain of the fanatics looking for S.E.T.I. signals while being underground. Emotional part of the tracks follows the strange logics: it appears you are first following the submersion to nowhere constructed of microscopic humids and cut radio waves, then suddenly come to the hidden door which opens and scares you with the very bright, or maybe dark light - it depends on the mood you are currently in. Third track appears to be very calm and standing to the classic ambient works in "Biosphere" style, like giving the listener the fresh breath after a long sweaty running. Finally, the last 16-minutes long epos discovers the true about this album's heroes, which seems to be some japanese teens sitting on the closet and trying to imagine what is their life's problem: diffused japanese woman's voice is combined with the ice and still water particles we heard at the beginning, with the standalone melancholics from the third track, and it ends up with the perversed harmonics inherited from the second part. Not saying it will be a memorable record in your whole life, and as about the compositional part, it is created just from two or three changing notes; however it is an interesting work, full of unusual samples, textures and their combinations, coming worldwide straight from the enigmatic continent.

Makryham (c) 2007
Proliferation including "intoxication". At Four dimensions, the concept of "time" can't be formed because "a thing" can't keep itself. It has suffering from the self-nonlinear ghost. About self-nonlinear ghost, complex numbers is a good metaphor. Little by little self-nonlinear ghosts will multiply including self-intoxication. A reference to differential potentialty. The word "potential" may be replacemed by the word "Le Real". Probabilistic emergence is a shift to three dimensions of "reality field", and it has Conosei.

Emergence as the system might be computer and our communications. We are the errors, and etcetra for the computer that does a perfect job to the end calculation. However, it becomes controlling the system by etcetra. it, and what emergences is the occurence. Those who observe are inside the cybernetic environment. The people who are called glitch are divided into this. On the other hand, the computer functions perfectly when we are taking part in the "field" itself.


Progress is made to the weakness and cracks like using a modal scale. It gives birth to probabilistic emergence for the "perception" to take part of the"field". The standpoint of the cage seen zero and total sonority of the attention also does the act of perception. Does not the faction of this "Timbre" (When scale is hesitant by two intervals.) seem like the process where the subject as mediator of disappearing gives birth to "Le sambolic"? The process where Conosei is found is a process where "meaning" (Le sambolic) is found , THIS is affordance. Neo-Vienna quintet is a good example. This-new-order and No-determinism may not be perfectly trusted by others. Our participation host and guest's metastases to....?

zizek-faker (c) 2006
"The Depressed" is very malancholic, gloomy. Established, existing system must deal with this "The Depressed" to be unpleasant. "The Depressed" has the traumatic introspection, neither the right wing nor the left wing. Immediate ideology which established, existing system would demand must conflict with the introspection. So literally non-hierarchy nonpop forth world music marginalized by hegemonic ideology or postmodernism. "The Depressed" should be listened in a social frame! This is one of neue japonska kunst with no-arm selfportrait tableau.


Kolzol (c) 2006
In the first track slowly rotating loops are set against cascading chords for an eerie mood, with some high pitched chirps and bleeps. An uneasy introduction to be sure. Next in Track 2 come jarring, screeching tones, giving way to cycling, jewelled melody fragments, progressing into monstrous slabs of noise. The third track is a long melancholy melodic interlude. Track 4 has a female oriental vocal narration, and bleeping backgrounds growing in intensity, with some strummed chords and effects.

This work is a must for lovers of dark, experimental and disorienting sounds. Unexpected sounds and textures keep the listener off balance, never knowing what to expect.


Larry Johnson (c) 2006
"The Depressed" is one of the most aesthetically pleasing and, at the same time, challenging dark experimental releases that I've crossed paths with. A postmodern sojourn into the world of digital noises, iridescent electronics, shadowy drones, and incorporeal voices where the juxtaposition of opposites - order versus chaos, organic versus deconstructed, linear versus fractal, and abstract versus concrete - play an important role. "Digital Domain Xoomei Sahka Tuvanskya" is a self-descriptive, minimally brooding collage of digital noises and broken sounds. The title track "The Depressed" is a chaotic onslaught of cascading walls of almost brutal electronic noise except for the last few moments when the harshness subsides into a quieter and gentler abstraction."Le Mansyuria De La Nuuit" is a reflective and melancholy drone where sparkling electronics and sad tones interplay in such a way as to be suggestive of world music influences. For me "Kyyuya" is the climax to this album where the combination of chattering ghostly voices, fragmented electronics, deep tones, and dissonant guitar contribute to an overall disturbing, surreal atmosphere.


Back To Reviews













Dark Winter releases are free to download under a Creative Commons License.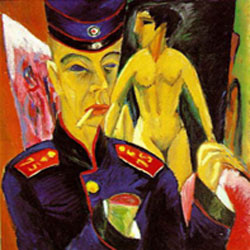 Related Links: