dw044 - Cordell Klier & Datura 1.0 - Repeal Compulsion

First, take a sound artist with a reputation for being very expansive towards his work while wielding an uncompromising sophistication with his overall vision. Next, take the counter cultured irreverence of a long standing veteran of the American noise scene, mostly known for his "less is more" approach, yet with a sound so vehement, most audience members leave from inner ear blood clots. Now, get them in the same gallery space, and force them at gunpoint to make a world-class ambient noise release. Well my dear listeners consider yourself lucky; this bar raising achievement will make you chortle with fluid enthusiasm. Finally, wrap it all up with a striking cover piece by the up-&-coming Minneapolis abstract artist Autumn Dulian, "Repeal compulsion" is one fine piece of ambient noise. Two greats, equals one amazing selection.

Subtle in all it's complexities, and yet over the top in it's structure. Their approach is simple, calculated, strict and precise. This collaboration between Datura 1.0 & Cordell Klier is no doubt one of the bleakest - and coldest - releases both artists have ever conspired to achieve. Justly stated: "Repeal Compulsion" is sexy as hell.


Download Full Album:


dw044 - Cordell Klier & Datura 1.0 - Repeal Compulsion (65.3 MB)


Download Songs:


Track 01 - 01 (4.99 MB)
Track 02 - 02 (8.08 MB)
Track 03 - 03 (4.16 MB)
Track 04 - 04 (8.56 MB)
Track 05 - 05 (10.0 MB)
Track 06 - 06 (11.1 MB)
Track 07 - 07 (6.87 MB)
Track 08 - 08 (7.21 MB)


Download Hi-res Album Art:


dw044 - Cordell Klier & Datura 1.0- Repeal Compulsion (4.76 MB)




Back To Releases



























Dark Winter releases are free to download under a Creative Commons License.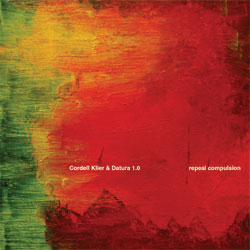 Related Links: