dw064 - S/M - The Unbearable Darkness of Being

IkEcht - Songsoverruins (c) 2010
Slutmachine, the moniker under which the American Lorren Stafford operates, has been reviewed here before. Last December he released "The Unbearable Darkness Of Being" as S/M on the net label Dark Winter. At the time Slutmachine made me beg for more. Is that still the case?

Dark Winter serves us three tracks of well over 70 minutes of noisy drones and dark ambient. First we roam through the Acherontic Crypt, an experience that becomes increasingly claustrophobic and ends in a squealing buzz of feedback and drones. The Way Down is clearly the magnum opus with no less than 45 minutes of evolving noisy drones. Nice trivia for the Doctor Who fans: bonus points for those who can spot the sound a TARDIS materialising. Finally we have Amaranthine Vallecula that is, relatively speaking, the most accessible track with, what seems to be, occasional moaning of voices shimmering through the haze. Slutmachine draws a pitch black portrait of the drone genre and is best listened to at high volume. I'm still begging for more

Originally written for the Dutch weblog IkEcht (http://ikecht.web-log.nl/ikecht/), English translation by the author.




Back To Reviews






























Dark Winter releases are free to download under a Creative Commons License.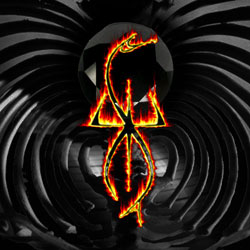 Related Links: