dw063 - Mister Vapor - It Came From Vapor

Agniworld - Kirill Platonkin (c) 2011
Mister Vapor is another project of prolific ambient artist Thomas Park, and one of his albums, "It Came From Vapor", released on Dark Winter label, is now under discussion. The opening track "Psychic Residue", a misty, mantra-like drone, may narrate about some parapsychological phenomenon, if thinking over the title – some remains of a consciousness, a ghost or a phantom of previously existed breather. The next "Sad Jungle", a piece, combining field recordings, extended humming and ethnic drums, stands out against a background of the other tracks, by its rhythmic nature. Then comes ringing and enveloping "Mystical Fire", probably made of some bell sounds. "Cold Vapor" is a set of gentle, thick drones, the atmosphere of which tends to be comfort and pleasant, whereas the previous track is mainly of worried mood. "Thought Tones Volume One-Part Four" is a remix, made by Thomas Park, or, maybe, a collaboration with Kit Watkins, again representing a drone nature of the album. "Incident 9? seemed to me a complex of processed field recordings and crackling layer of sound, producing some kind of ominous impression. As for the concluding "One Resolution", it embodies the "happy end" of the album, with positive, major chords and streamlined music forms. So, find out, what came from Vapor with Thomas Park's ambiences.


IkEcht - Songsoverruins (c) 2010
Thomas Park is an exceptionally active artist who has released almost 200 albums since 2003, mostly under the moniker of Mystified, but, since 2009, also as Mister Vapor. His music can be classified as minimalist (dark) ambient and drones. "It Came From Vapor", which was released at the end of last year on the net label Dark Winter, is no exception to this. Such a sheer endless stream of releases begs the question: "are all of them worth listening to?". Or should we really look for the occasional pearl?

I must admit being little familiar with Thomas' discography, despite the fact that most of it has been released on net labels, including his own Treetrunk Records. This album sounds nice though. The majority of the tracks are relaxing (dark) ambient and drones, and tracks like "Psychic Residue", "Mystical Fire" and "Cold Vapor" are all fine pieces. "Thought Tones Volume One, Part Four" is a remix of a piece by the American Kit Watkins and is surely the darkest track on this album. "Sad Jungle" aims for the ethnic ambient sound that elevated for instance Sephiroth to great fame, but comes off as a rather poor attempt, mostly due to the repetitive drum loop. "One Resolution" ends the album on lighter and more airy tone, almost bordering on new age spheres.

Taken altogether, "It Came From Vapor" is a decent album for the ambient and drone fans. There is nothing here that you would not have heard before, but it does leave the impression that the music of Thomas Parker belongs to the upper echelons of the masses of average sounding ambient acts out there. Then again, with almost 200 albums under your belt a certain proficiency is to be expected.

Originally written for the Dutch weblog IkEcht (http://ikecht.web-log.nl/ikecht/), English translation by the author.




Back To Reviews




























Dark Winter releases are free to download under a Creative Commons License.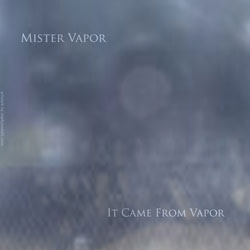 Related Links: