dw055 - Mrcien - Bridges over symptoms and tunnels under disorders

IkEcht - Songsoverruins (c) 2009
Mrcien is the alter ego of the Swede Markus Åberg, a musician who works in the mental care sector by day, and makes music by night. The .net label Dark Winter has recently released "Bridges Over Symptoms..." and describes it as "an interpretation of sound art from the artist's interest in mental illness and intellectual disability". For those who think to now completely end up with abstract sounds and field recordings; well, yes and no. Above all this album has become oppressive.

Bridges... opens with "Spider Drums" and "Less Anxious?", ritualistic pieces of dark ambient and throat singing. Comparisons to Sephiroth are not far off the mark, just less stirring. "Electric Neuronal Activity" has become a dense piece of noisy drones with fragments from Werner Herzog's documentary "Grizzly Man". As it progresses the album becomes increasingly oppressive and dark. Its centre of gravity, at least for me, is the series of tracks starting with the 10-minute "Tics"; a piece of drones that could well have been composed by the likes of Moljebka Pvlse. What makes this album so oppressive is not an all-out assault of drones. No, Mrcien creates a flickering shadow play of deep drones, crackling clicks 'n cuts and field recordings. A track like "I do, I do, I do!" is mostly silent, with just recording hiss and bird sounds, to then unexpectedly whack you over the head with some of the most mechanical and scary drones I have ever heard. Oh, and it then ends in series of danceable beats, for a mere twenty seconds, that just CRY OUT for more.

Only with the last two tracks and four minutes light is visible at the end of the tunnel again; "Småfåglar" is a light piece of drones and field recordings with somebody talking in Swedish and album closer "Deaf Autistic Man Playing Guitar" is exactly that. It isn't very musical but somehow fits in the stifling and insane atmosphere that Mrcien has conjured up. Overall, "Bridges..." has become a dark album that fits above given description surprisingly well. Again warmly recommended for those into dark ambient and drones.

Originally written for the Dutch weblog IkEcht (http://ikecht.web-log.nl/ikecht/), English translation by the author.




Back To Reviews



























Dark Winter releases are free to download under a Creative Commons License.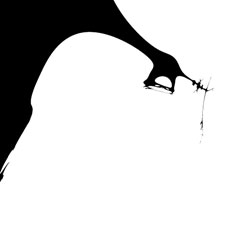 Related Links: