dw049 - Edge of October - Collapse

IkEcht - Songsoverruins (c) 2008
That music can be an outlet for emotions is nothing new. Jeff Zvorak, the man behind Edge Of October, uses it as an instrument to combat depression. "Collapse" is his debut album on the .net label Dark Winter, by now the 49th release of this label, and the tracks are sonic snapshots of the different stages of this man's illness. What we get is quiet dark ambient and drones. Not surprising if one sees his MySpace page mentioning being influenced by the likes of Kammarheit, Svartsinn and other Cyclic Law artists.

I needed some time to digest this album. It's so quiet that, unless you give it your full attention, it might just end up dwelling unnoticed on the background. This album 'does' contain some really good songs though. "Resurrecting Old Ghosts" for example, which features some ghostly sounds that return several times. Or "Descent", which features a short piece of spoken word. What this album suffers from most, I think, is its brevity. With seven songs and only 33 minutes it really is too short, resulting in tracks that can't quite develop themselves. This asks for more, this music ought to breathe!

The palette is dark, the sounds cold; music well-suited to contemplation. Clearly also headphone music for late-night listening. Although the sound may not be very original, it is well done. If Edge Of October steers clear of the generic drones and, as in aforementioned songs, gives them a signature sound of his own, this project will likely become one to keep an eye on in the future.

Originally written for the Dutch weblog IkEcht. English translation by the author.




Back To Reviews





























Dark Winter releases are free to download under a Creative Commons License.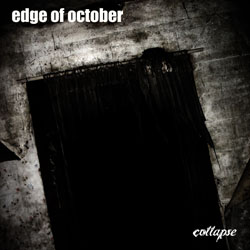 Related Links: