dw021 - Adaptcore - Sunset After Wind

Sothzine - Yassine Maaroufi (c) 2006
Sunset after wind pours like a calm river through your ear and slowly makes you slide upon its surface from reality to the realm of dreams. To its darkest side to be more precise. Each of the four tracks offers a slightly different atmosphere but one simple theme fear and pain and whatever other feeling that can come by. The music seems to tell an ancient story coming right from a forgotten tribal time invaded by evil magic. A place where the air is filled with hatred and pain. An ominous gaze through the mist. A dying earth. A lifeless future. Only 2 minutes before the end will you be released from the weight of the sounds with a beautiful fragment of bliss.


Edward Anderwohin (c) 2006
Adaptcore, the moniker of Russian experimental composer Alexey Rodin, has chosen the crossroads concept of twilight for the theme of his first release "Sunset After Wind". The lovely artwork included with the download gives glimpse into shadowy worlds of fire and wind. The "dark positive" tone Alexey wishes to conjure may only be positive only to those who have not only looked into the abyss, but have also learned to love it.

The album begins with an ending, "The End of the Iron Age" to be precise. Though "End of the Factory Age" may be an equally apt title, as the rumbling echoey noises bring to mind aging concrete factories that are stuck in production mode long after the workers have gone home. As this delay-soaked landscape builds to a close, low sustained synth notes rise up repetitively and give this bygone age the dark ambient equivalent of a 21 gun sendoff.

"You Still Remember" starts off with lovely crystalline synthetic waves but demonic feedback loops threatens to usurp this angelic choir. Shadow and light play off each other more in dance than battle and the basic static nature of the track gives no hint of victory or defeat. The procession itself moves and leaves behind lingering memories.

"Dark Path from Rays in Water" takes off at the 8 minute mark when a throbbing bass pulse pushes its way into the scene. Water, by way of Orb-y bubble synths, winds into the track near the end and hints at an ambient techno nature nowhere else witnessed.

The title track roars down the runway like an airplane in slow motion, spewing smoke and fire from its engines. Some brooding synthesizers and angelic choirs accompany this plane's take-off and it's hard to keep images of the airplane as an airborne God of War out of the mind as we listen to the ascent. Those who contemplate the beauty of fire from downwind are bound to get burnt and at the 9 minute mark the burning starts. In the muted powernoise, the album finds itself most natural. After rumbling factory noises and monolithic synthesizers make their return, we are treated to a few enigmatic Morse Code dots and dashes and a great burst of pure noise, before we move to fadeout.

I think Adaptcore's ability to evoke imagery through sound is the strength on which the album stands. The album's weakness is not sound choice, execution or production; rather it is the sense of familiarity felt while listening. Caul or Dark Winter's own Samsa also play in "dark positive" areas but where each of them bring unique sensibilities into the mix, Adaptcore appears to be struggling for a voice of his own. This identity issue is oft confronted by new composers. I suspect Alexey will overcome this as he continues recording. It is in the freeform noise sections I hear the greatest sense of self, and for that reason I am interested to hear his second, noisier, release on Italy's Benekkea label. I have the feeling that Adaptcore, if he sticks with it, could grow into quite a formidalbe artist.

In the meantime, there is little to dislike in this debut release and much to enjoy. Well worth download time and effort.


Back To Reviews






Dark Winter releases are free to download under a Creative Commons License.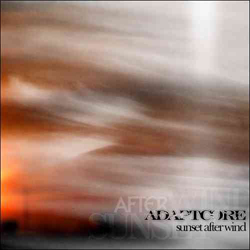 Related Links: