dw046 - Mystified - Altered Signals

"Altered Signals" is a series of pieces based on the alteration of a relatively simple original sound or set of sounds. Most sounds treated for this release involve some form of broadcast, such as radio. The tracks are much more ambient than most of mystified's recent work, but they do call on his studies of noise. The centerpiece of the album is a 30-minute piece called "The Science Of Change"-- a longform piece that moves back and forth but never repeats, sounding a bit like one of Roach's "Immersion" pieces.

Mystified hopes you will enjoy immersing yourselves in this music, reflecting while you do on the ways simplicity can become complexity in art.


Download Full Album:


dw046 - Mystified - Altered Signals (65.7 MB)


Download Songs:


Track 01 - Altered Signals (6.91 MB)
Track 02 - Bell Cloud (6.36 MB)
Track 03 - Vocal Tremors (6.00 MB)
Track 04 - Octavepus (6.91 MB)
Track 05 - Science Of Change (41.3 MB)




Back To Releases






























Dark Winter releases are free to download under a Creative Commons License.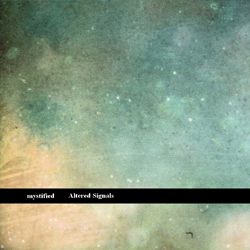 Related Links: